What's this?
It looks like a completed part of a sweater, but since I'm sure everyone very carefully monitors all of my projects and what I'm working on at any time, you're probably confused because you've no idea what this is, and you know that I don't knit that fast.
[Fun fact: see that little bit of yarn left at the top bind-off? That was the
end of the ball
. It's longer than it looks, but
not much
. The Knitting Gods smiled on me that day.]
Well, the itch to start something somewhat brainless was about to get the better of me. I was gearing up to do the hemp-preparation-smack-down where I get the hemp wet and smack it against something to soften it up before I start knitting it. (I'm told this is what is necessary. Do I dare try to knit the hemp without the hemp-preparation-smack-down?) But as you all know, because you voraciously read every post I make, that I have several projects going right now, and starting a new one isn't the best choice, especially when the projects in progress are for the winter, and the hemp project is for the swiftly-fleeting summer. So I brought out an oldie-but-goodie in order to quell the desire for something stupid.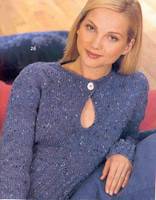 Isn't she pretty? And you say there's never anything in Vogue that a normal person could wear.
About a year ago I bought some yarn on Ebay. It's Adrienne Vittadini Mirella and it's a yummy color, I think. The picture above is a picture of it wet, so it's actually lighter than that, and has a bit of sheen. After holding on to it for a while hoping for a pattern that would use most of the yarn without going over (just like on The Price Is Right), I finally found a pattern in winter Vogue 2002 and I got to work. Shortly thereafter I must have gotten some money to buy more yarn with or something because once I finished the back, I was on to other projects (maybe baby stuff?) and haven't re-visited it. I hadn't blocked the back yet, and since I wanted to know what the yarn would do (it had been stuffed tightly in a bag for a while and I had a hunch it would bloom a bit) I went ahead and got it all wet and pinned it out. It stretched quite a bit, but I smooshed it into submission, and in the long run, if the sweater turns out larger rather than smaller, that's a good thing, as I am larger rather than smaller.
So I had this great plan for the evening. Since I am very actively
not
interested in the presidential debates, I thought that I'd watch Will&Grace and then go take a walk, come back, watch a movie and knit and eat the last of the green tea ice cream (eating the last is the best because you eat it straight out of the container) and then I'd have a picture not only of the back that came out of thin air to blog-land but a few inches of the ribbing for the front. My plans never turn out. I couldn't find my CD player to go walking with, and I searched for 20 minutes. It really bothered me that I couldn't find it. Finally I gave up, took my PDA instead (very glad I sprung for one with an MP3 player) and looked in my car for the CD player and there it was, under the road atlas in the back seat. By the time I got back from my walk, it was 9:00pm and I sat down to read some blogs. Now here I am, it's after 10:00 and I'm blogging, still listening to my PDA, and since I need to get to work tomorrow, I should go to bed. It's too late to watch a movie. I did enjoy a cup of the tea I bought at Barnes & Noble last night (if you like tea and haven't tried the tea at Starbucks, I highly suggest you go.) And I will not forego the ice cream. Life is too short to skip ice cream. I will not bore you with an inch of 2x2 ribbing. Perhaps tomorrow I will have two inches and that will be worth sharing. Perhaps.