It is 43 days until Operation Big Chop, and as promised, as the day nears, I will be sharing some pictures of me in the past, and of me in the future.
These are pictures of me in the past --
au naturale - August 2004
This is what my hair looks like when I let it dry naturally without messing with it. This nearly never happens, because it takes hours. It's much longer and more even now. If I do get an opportunity before I chop it to get a picture of it this way again, I will share it with you.
These were taken about five years ago when I had it short last and had it highlighted: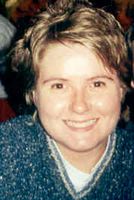 The one on the right is my favorite picture of me EVER. I kept it this way for a while before I decided to grow it out. This was the only style I have had for which I would periodically get compliments. Not just compliments when I first got it cut, but random compliments from people who hadn't seen me in a while.